---
Poland
---
Capital
Warsaw
Language
Polish
Border Countries
Germany, Czech Republic, Slovakia, Ukraine,
Belarus, Lithuania, Russia
Population
38 million
Area
322,575 sq km (124,547 sq miles, about size of New Mexico) -
the seventh biggest country on the continent
Time Zone
CET (UTC+1)
Summer (DST)
CEST (UTC+2)
Climate
Temperate with mild summers and moderately severe winters
Currency
Zloty (PLN, zł), 1 zloty = 100 groszy
Government type
Republic, parliamentary democracy
Members of
EU, UN, NATO, OECD, WTO and many other
Country Code
PL
Tourism
14 million tourists visit Poland every year,
Poland ranks 14th in the world as a tourist destination
Electricity
220 Volt / 50 Hz ; continental sockets
Telephone
48 (To call Poland)
Entering Poland
Poland is a member of the Schengen Borders Agreement.
See http://www.msz.gov.pl/en/travel_to_poland/entering_poland/.
Poland's Official Travel Website: http://www.poland.travel/en
---
Toruń
---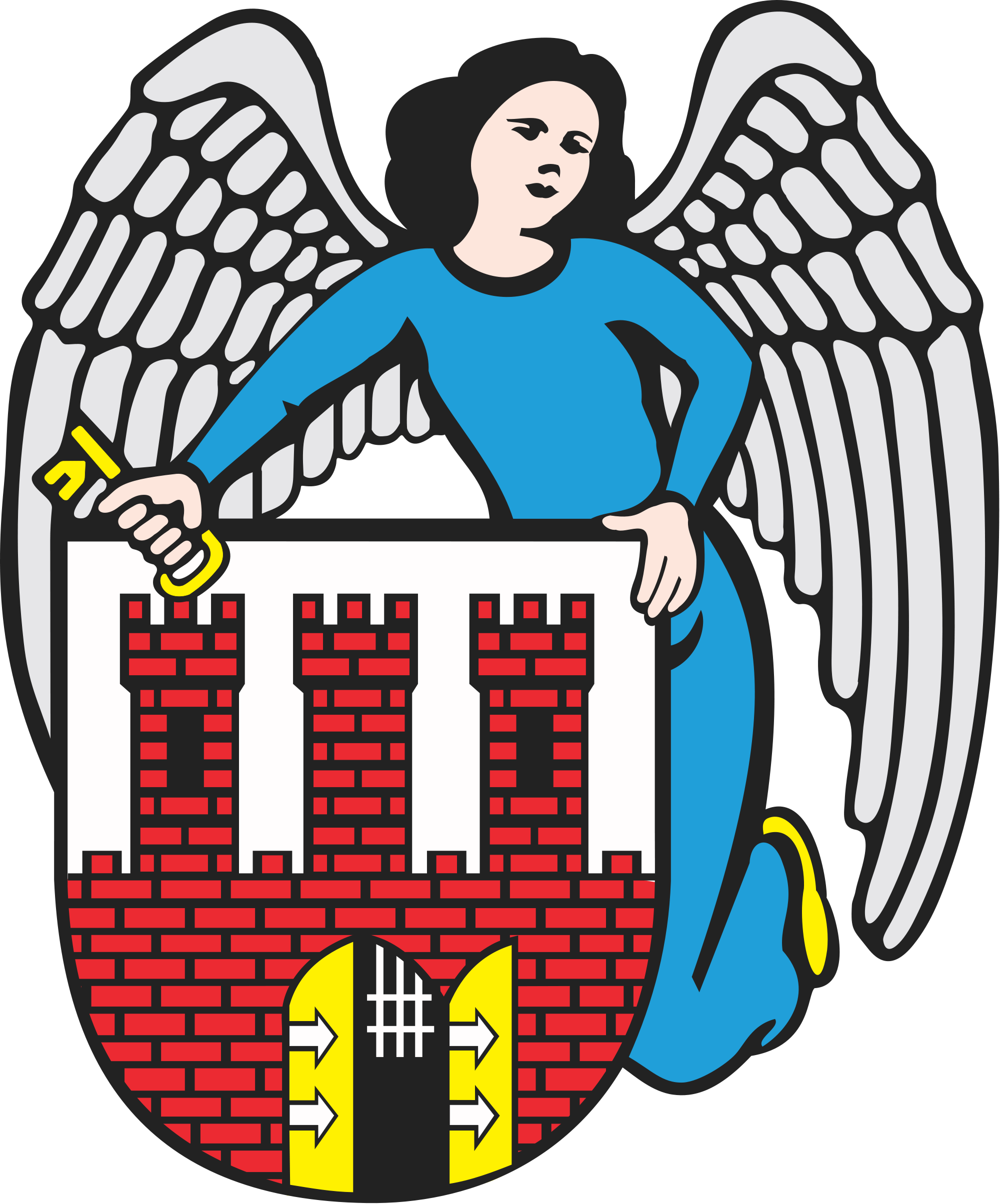 Toruń, one of the oldest cities in Poland, is located on the Vistula river in the northern part of the country, and is best known as the birthplace of the astronomer Nicolaus Copernicus. In 1997 the medieval part of the city was designated a UNESCO World Heritage Site, and in 2007 the Old Town in Toruń was designated as one of the Seven Wonders of Poland.
National Geographic rated the old town market and the Gothic town hall as one of the 30 Most Beautiful Places in the World. Toruń has many monuments of architecture beginning from the Middle Ages. Most of them have an almost intact medieval spatial layout.
Toruń has the largest number of preserved Gothic houses in Poland, many with original wall paintings or wood-beam ceilings from the 16th to the 18th century. Among the most important monuments are: the Cathedral John the Evangelist and John the Baptist (14th century), St. Mary Church (14th century), the Old Town Hall (12th-16th century) - one of the most monumental town halls in Central Europe, ruins of the city fortifications (12th-15th century), and the 15th-century Gothic house (now a museum) where Nicolaus Copernicus was born.
Toruń escaped substantial destruction over the centuries. Particularly left intact was the Old Town, all of whose important architectural monuments are original rather than reconstructed. In recent years major renovation projects have been undertaken to improve the condition and external presentation of the Old Town. Numerous buildings as well as the city walls are illuminated at night, creating a unique effect among Polish cities.
Toruń Guide http://www.visittorun.pl/
---
How to get to Toruń
---
By plane
The nearest airports are located in:
Bydgoszcz (47 km)
Gdańsk (174 km)
Warszawa (221 km)
Poznań (170 km)
---
By train
The train station closest to the conference center (2,5 km) is Toruń Główny (the Main Train Station in Toruń). For a detailed timetable please refer to PKP Journey Planner and E-Podróżnik.
---
By bus
The bus station is located 1,5 km from the conference center. For a journey planer please refer to E-Podróżnik.
---
By car
from Gdańsk – motorway A1 to the junction Toruń – Lubicz,
from Szczecin – route S10,
from Frankfurt (Oder) – motorway A2 to the junction Stryków, then motorway A1 to the junction Toruń – Lubicz,
from Łódź (junction Stryków) – motorway A1 to the junction Toruń – Lubicz,
from Warsaw – motorway A2 to the junction Stryków, then motorway A1 to the junction Toruń – Lubicz.
Please note that you have to pay toll on most of the motorways in Poland.
---
Local transport
The bus and tram stop closest to the conference center is Plac Rapackiego (Rapacki's Square) – one of the main stops in the city. Tickets (the same for buses and trams) can be purchased at each booth with the press, from a driver or a ticket machine in a bus/tram. A single ticket for an adult costs 2,80 PLN. There is also 8-journey ticket (so called "karnet"), which costs 20,10 PLN. Remember to punch your ticket immediately after boarding the vehicle. There is no charge for baggage but you can not put bags on seats.
Public transport timetable and other information can be found on the official website https://mzk-torun.pl/wersja-angielska or on nationwide public transport journey planner http://torun.jakdojade.pl/?locale=en.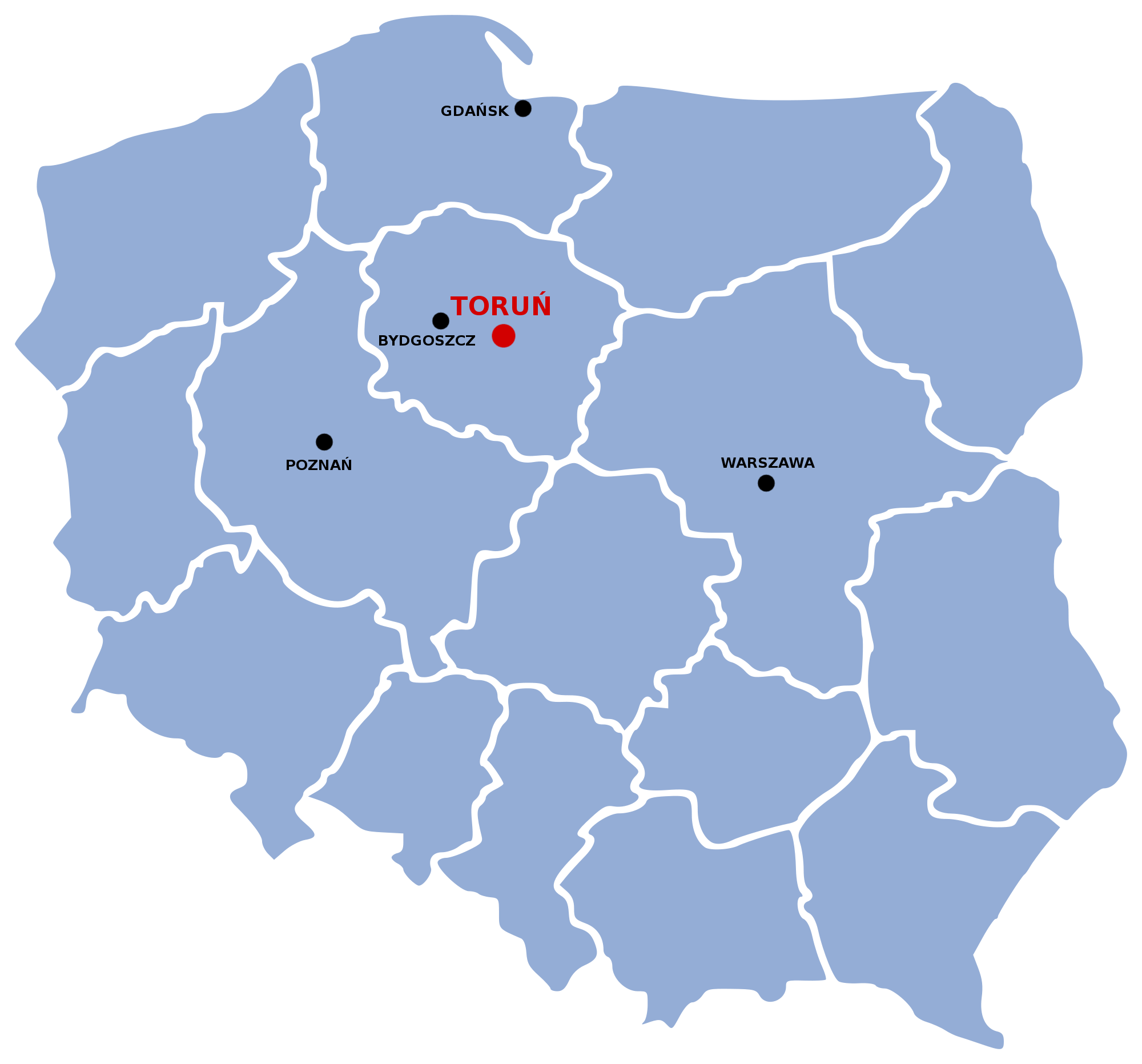 ---
Accommodation
---
Toruń is a tourist town and offers a wide range of accommodations. The old town is located in a walking distance (~7 minutes) from the venue and dozens of hotels with a wide range of prices and a variety of conditions are available there, from expensive ones to low-budget hostels. We strongly recommend to find a suitable accommodation through the online accommodation booking website www.booking.com.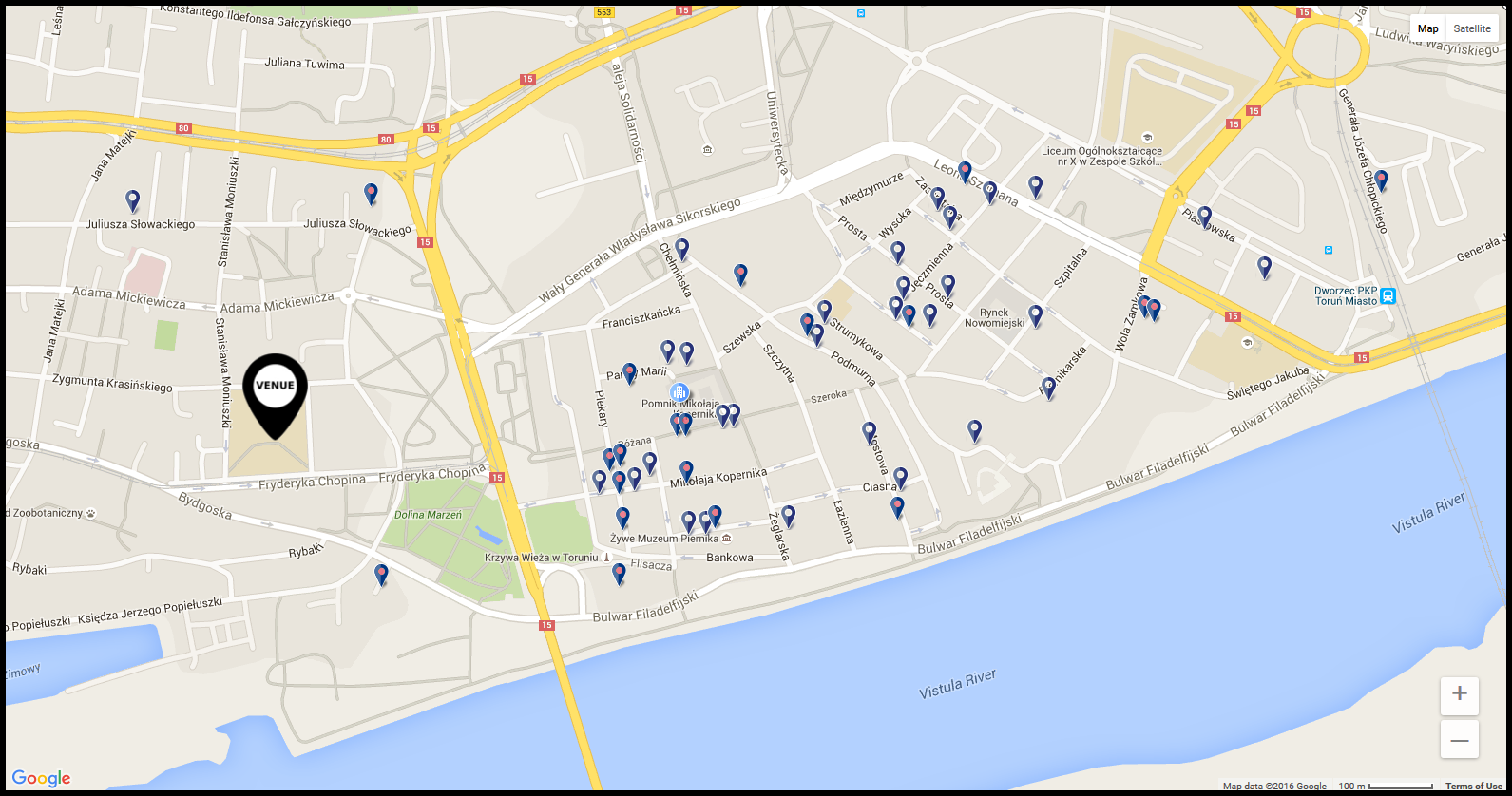 One may also consider staying in one of the wide variety of private apartments, which are available at:
https://www.airbnb.co.uk/s/Torun--Poland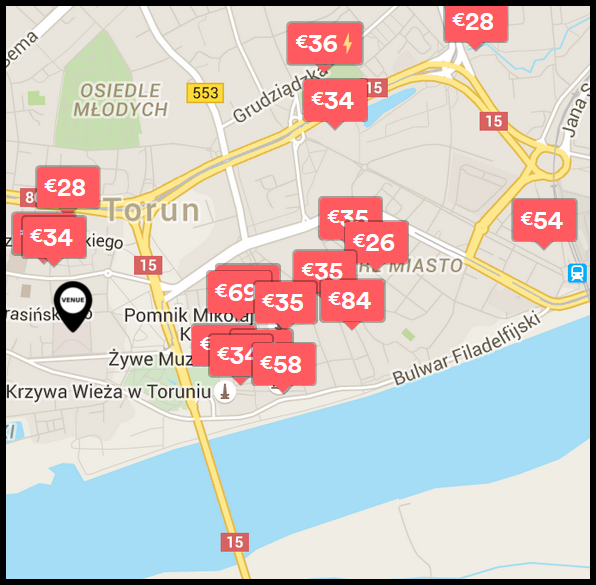 Caution!
Due to the holiday season and a large number of tourists visiting Toruń, as well as European Fencing Championships (which takes place in Toruń at the same period of time), one might encounter some problems with finding suitable accommodations. That is why we firmly recommend to book a hotel as soon as possible. Note that www.booking.com in most cases allows a free cancellation.
Independently from the booking service we recommend the following hotels:




In case of any problems with the reservation, as well as questions and doubts, please contact the organizers (pn2016@mat.umk.pl).